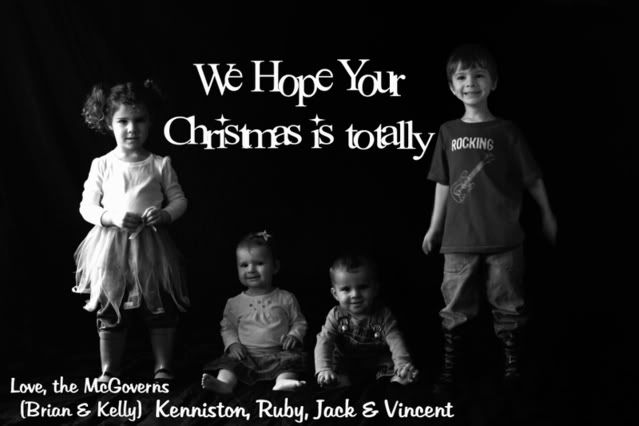 McGovernville 2008 (12th Edition)
Well friends and family another year has come and gone, and this year, by far, has been our biggest.  It would help if I started from the beginning of our year.

March 18 was a big day in our house.  Jack Owen was welcomed into our family at 5:04 pm and Ruby Adeline came at 5:09 pm.  Jack weighed a whopping 6lbs 13oz, and was 20 inches long, while Ruby was 6lbs 3oz, and was also 20 inches long.  Recovering from a natural twin delivery was interesting to say the least.  Aside from Nana and Papa Scott who traveled from Texas to help us, we had an amazing group of family and friends who were a complete blessing.  God sure gave us some awesome people in our lives! 
In April Kenniston turned 2 years old and Mommy turned, well let's just say Mommy had a birthday ;-).  Aunt Tonya was there to help out with the party and she even gave us a date night as we celebrated 7 years as a married couple.  Earlier in the month Grandma and Grandad visited us from Montana.  The year wasn't even half way over and we had already had several visitors! 
In May Brian celebrated a birthday as well (with 6 people in our house this happens a lot now days).  Life with 4 kids was starting to seem normal, but we still felt like we were floating along.  This was especially true during Brian's summer training in Atlanta.  Even though it was only 2 weeks long, it was still a challenge with two newborns and the big kids. 
In June our family took our first camping trip as a family of 6.  Our churches annual camping trip happens to be in Eastern Washington, just a few hours away from Missoula Montana.  After working out plans with the McGovern half of our extended family, we chose to have a mini family reunion at Jellystone Park in Missoula.   Between stopping for nursing breaks and potty breaks it took us longer than expected, but we made it and fun was had by all during that summer trip "back east."
In July our little boy, Vincent, turned 4 years old.  We celebrated with a backyard swim and splash party with some close friends.  That was pretty much the theme for our summer.  With two "big kids" (as they are now called) and  two *constantly* nursing and sleeping babies we spent a great deal of time at home enjoying water play. 
This fall brought on the typical beautiful colors and crisp air.  It also brought about training for Brian.  He left for Germany this October and trained there for about 5 weeks.  We continued our regular activities in hopes of keeping our lives semi-normal schedule.  This summer we started an art playgroup (that meets at our house) that we have been pretty successful in keeping up with.  We have also enjoyed our weekly Bible study with PWOC and our small group study through our church.  MOPS started this fall, which has been a huge blessing.  Vincent also started AWANAS at this time.  Life has been been busy for us!
Through all this time the kids have grown leaps and bounds.  Kenniston is all girl.  She loves just about any princess story, even more so, she loves to dress up and pretend to be a princess herself.  It has been so interesting to see her transform from "baby/toddler" to little girl.  Vincent has taken on the ultimate big brother role.  He loves helping us out and at times has to be reminded to let Mommy and Daddy do their job.  He continues to read and now has an interest in new math skills (he loves addition and subtraction).  We are trying to take things slow in that area.  I contemplated starting him in kindergarten this year (at home, we plan on homeschooling), however I want to let him be a kid for a while and just enjoy learning at his own pace for now.
Jack and Ruby are growing way too fast.  They are most definitely our last babies, so I am really trying to soak in all of their babyhood.  Both babies are very mobile and so different in personality.  Jack is a flirtatious bundle of personality.  He will smile and play coy at pretty much anyone, but can definitely let you know when he is unhappy.  Ruby is so quiet and observant.  She loves to stare at things and learn about them, especially through touch.  She is a very tactile baby!  She is extremely content and loving.  Her smile can brighten any room. 
And so, that brings us to the Holiday Season.  We are really looking forward to some quality family time this Christmas, since Brian will be leaving so soon, and won't be around next year this time.  Speaking of which, for those who don't know yet, Brian is deploying to Afgnhanistan sometime around the first part of the year.  He will be NCOIC (Noncommissioned Officer in Charge) of a Brigade Public Affairs office somewhere in the middle of the country.  Of course, we'd greatly appreciate your prayers, not only for his safety, but also for Kelly and the kids, as they'll be making do without daddy for a year.
Thanks so much for your support and prayers over the years. We want to wish you and your family a wonderful Christmas, and our hope is that everyone will take some time to remember what Christmas is all about:  a Baby born in a barn who grew up to die for our sins.  Our hope and faith is in Him.