sorry it is so late today folks, I was going to try something a little different, but couldn't figure it out while holding a fussy Ruby.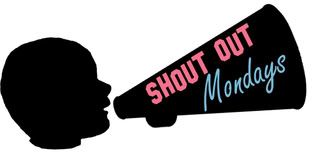 Here is how it works:
Every Monday will be a shout out Monday.  I am going to post a "shout out" to someone new every Monday.  Then, you, the reader, can add a comment shouting out to this person.  Tell them hi, ask how they are doing etc.  Person being shouted out to can then reply and say hi everyone else, if they so please.  I even made a cute new gif to go along with it.  Play along and do your own shout outs on your blog if you wish! 
Today's Shout Out Monday is….
This is Heidi.  I met Heidi in NY almost 4 years ago.  We were staitioned there and she was serving in our church there.  She and Paul (her husband of 2.5 years) now live in Alaska…brrrrr.
BTW, this picture is just over 3 years old.  Both of us have changed quite a bit.
Everyone please leave a comment for Heidi…tell her hello.  Congratulate her on being this weeks shout out.  Ask her a question.  Tell her she needs to move to WA or even TX!  🙂